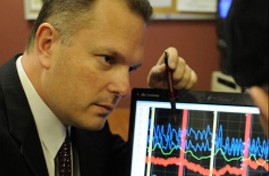 Daniel Ribacoff
Polygraph Examiner
Polygraph Examiner Daniel Ribacoff has been conducting lie detector tests for The Steve Wilkos Show since 2009. Owner of International Investigative Group (IIG), Ltd., which includes the InDepth Polygraphs division, this court qualified expert brings with him more than two decades of experience in the field.
Ribacoff rated among the top 15 private investigators in the United States by Investigators Open Network (ION). Currently a reserve officer with the Nassau County Auxiliary Police, he previously worked as a reserve with the New York Police Department. He was named as the NYPD Honor Legion Man of the Year in 1991, a prestigious accomplishment shared by the likes of Mayor Edward Koch, Mayor Rudy Giuliani, and Senator John McCain. The National Police Hall of Fame Commendation recipient is a Polygraph and Investigator Expert Panel member for the Assigned Counsel Plan of the City of New York and Nassau County, New York, in both Criminal and Supreme Court. He is also a U.S. Immigration Court qualified polygraph expert, a member of the American Polygraph Association, National Polygraph Association, British and European Polygraph Association, International Society of Polygraph Examiners, American Board of Certification in Homeland Security, and a member of the American College of Forensic Examiners.
Ribacoff, a Nassau County Bar Association Honoree in 2009, he conducts post-conviction sex offender testing for departments of probation and parole. Among the long list of cases in which he has served as investigator are the 1993 World Trade Center bombing and the United States v. Osama Bin Laden, et. al. case, deriving from the U.S. African Embassy bombings in Kenya and Tanzania. He also served as investigator for AIG Insurance Company in one of the biggest bank fraud cases in U.S. history and lead investigator in the Hudson Armored Car & Courier truck loss in 1994, the second largest cash recovery in U.S. history.
InDepth Polygraphs has offices in New York City as well as Westchester, N.Y., Long Island, N.Y., Los Angeles, and Boca Raton, Florida. Ribacoff resides on Long Island with his wife and boasts a virtually endless supply of jokes.
Visit InDepth Polygraphs
Watch

the Steve Wilkos Show
Weekdays

10AM

on KDOCWeekdays

2:30PM

on KTLA